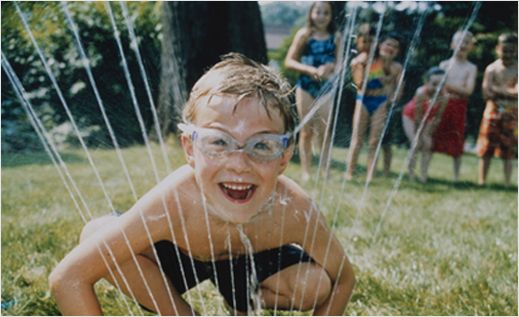 Chris:
Man or Astro-man? – Invasion of the Dragonmen
Summertime is all about cheesy and ridiculous things for me. It's also all about the surf rock. So Man or Astro-man? are a pretty natural fit for both of these things. This song starts off with a ludicrous sample from a Spiderman book-and-record set from the 60's or 70's, then breaks down into some surf rock madness. As such, this was probably one of my most listened to songs last year, particularly when I was mowing the lawn for some reason.
Asa:
Alcest - Souvenirs D'Un Autre Monde
Sometimes, one hears a band and finds their mouth agape in awe-- and not necessarily due to the musicianship contained in the tune, but because the band has somehow captured a feeling or experience the listener can relate to. Case in point: Alcest's
Souvenirs D'Un Autre Monde
record. Everything about the album-- exemplified in this song-- oozes sunny, relaxing beauty with its unrestraining guitar sound shining like unstoppable sun beams. I'd crash to this both ways while commuting to Seattle via ferry two years ago in a state of total bliss.
Unrelated: as I listened to this while walking the more pastoral parts of my study abroad school's campus this spring, I saw a bumble bee dogfighting with a butterfly. It was like Star Wars.
Quinn:
Piebald - The Benefits of Ice Cream
This song comes from what I find to be a terrific summer album: All Ears, All Eyes, All the Time. I listened to this LP around nine times or so while driving back home from the beach in the summer after freshman year of high school. It's got a positive vibe that defines it, but has subtle undertones of somber moments that prevent it from being overbearingly upbeat. Not only does this album mark a moment in time for me, it also definitely always makes me think of summertime.

"The Benefits of Ice Cream" is an anthem for staying positive and being carefree, without ever being too blatantly obvious with its message. The title alone should provide an idea of what it's about. It's a song that kicks off a memory of summer for me that I'll never forget. Everyone ought to have a song or album that holds a special significance of a summer past. I could choose any song from this album; in fact, I could choose a lot of other songs from other artists, but this song is a highlight for me.
Bitsy: Modest Mouse - Summer

Breaking the rhythm-- if you are under the age of 25, that is what summer is meant for in Hanover, Pennsylvania. Whether you live in this town year round, on weekends, over holidays, or even if you're just visiting, it becomes clear that the Hanovarian lifestyle is mainly made up of simple daily routines. The thought of my summer wasting itself away on cycles of work and sleep alone is absolutely gut-wrenching. I will not have it. At times I have to happily force myself to jump in the car and break the barriers of the monotonous trickle of the Appalachians. "Summer" by Modest Mouse seems to be one of those songs that I always have playing over the car stereo when I get that itch to get out and make something of the season. Although the lyrics and title obviously fit the theme— for me, this song lets me revisit a million and ten memories (mostly good) of past summer endeavors. I hope it will always serve as a trigger for my memory even after I've gone good and gray. Happy listening.
Jess: Zombi - Sequence 5
Like a swarm of fireflies, Zombi buzz with electricity on this track. Growing up, I used to chase these things with a mason jar in one hand, the lid clenched in the other. But if said fireflies were as electronically charged as these sparkling circuits sound, there's no way five-year-old me could keep up with them. Swarming at a height just above my jumping reach, these things would drive me crazy. This song reminds of late, summer nights. When Zombi aren't illustrating fireflies dotting the night sky with life, they're reanimating killer mosquitoes once squished beneath grandmother's boot. That's the spark that ignites at 1:30. All the while, the beat goes on as Steve Moore and A.E. Paterra add layer upon layer of '80s synth worship. This stuff could make Michael Myers pick up his pace a bit. As much as Zombi is about capturing similar essence in '80s horror film soundtracks, there's a strange innocence of it all. "Sequence 5" unfolds illustrious memories of youth, like staying up past bedtime with an adrenaline rush that refuses to simmer. This Pittsburg duo put their restless hands to good use.
Adam: Miracle Legion - Butterflies
My idea of summer will always be completely romanticized and, as a result, it never really is as amazing as it should be. Many of my childhood summers ruled and I can say that a few of my past summers have been really great, but they never quite develop into what I want them to be, especially when I'm taking ten straight weeks of summer classes. FUCK.

I can't exactly describe what I've looked for in my summers, but it involves something like what's described in the 80s indie/alt band Miracle Legion's "Butterflies;" an effortless, free-flowing, and serene journey through a familiar nature with a loved one. I used to have someone who this might have played out with, but that's long in the past, so now I spend my summers brooding and doing quite the opposite of what I actually want and what happens in the song. FUCK.
Aesop: Hanoi Rocks - Ice Cream Summer
It's summer and the weather feels like a race riot. And I wonder what summer in Finland is like. Hanoi Rocks had a few songs with "summer" in the title (two on the same album even). What could these Finnish dandies know about summer fun, or the Beach Boys, or not getting in a car with Vince Neil? Well, they must know something, because when I was told that this week's theme was summer, my mind went half way around the globe to the song "Ice Cream Summer." It's a fairly typical summer romance song, but Hanoi Rocks puts an interesting spin on it in the second half of the song by having melting ice cream as a metaphor for a relation ship doomed to dissolve at summer's end. And listen for where Mike Monroe calls Rosalita a bitch right at :28.

Hasan: Winter - Into Darkness
Summertime in Baltimore is awful. The sweltering heat in the area combined with the pollution and bad smell provide the perfect backdrop for Winter's brand of death/doom metal. I just love listening to doom and sludge metal during the summer. What a perfect band name too, their music wonderfully sets up a chilling and frostbitten atmosphere. Don't have an A/C or it's broken? Just play this bad boy. While everyone's listening to that Will Smith and Jazzy Jeff song or some Time of the Season bullshit, I've got Into Darkness blaring through my speakers! I've found that the song is also perfect for night driving especially in the middle of a hot summer night. Everything's so quiet and humid and there's no other cars in sight. Just you and the road, then the ritualistic drumming starts pounding away like a slow migraine while you're just coastin' through town coming back from a party/show/late night food venture and the crushing bass and vocals of John Alman guide you to your destination. I'm going to miss having so much free time come fall.
Note: Please send good thoughts to our boy Jason as he fixes his computer. As a result of the tech difficulties, we have only eight songs this week instead of nine. Jason would like to mention that if possible, he would've picked Thought Industry - Patiently Waiting.
Download the Summer mixtape HERE.